3 Phase Power
Looking for 3 phase power for your business
Our electricians can help to wire your building or commercial premise with 3 phase power. This will help remove unnecessary stress from machinery and electrical systems. Our team are even able to tailor design your new wiring to cover all of your electrical requirements.
Upgrading from single phase to three phase electric power
3 phase power provides machinery and industrial air conditioning with more consistent and reliable energy that is less interrupted than single phase power. This prolongs the life of your machinery as it stops it from working harder on lower power supply.
How 3 phase power works
Three phase power works by having multiple circuits running off of a single alternating current. Having multiple circuits causes there to be less interruptions in power when compared to a single phase circuit. The gif's below are a visual representation of single and three phase power and how they work.
Single Phase Power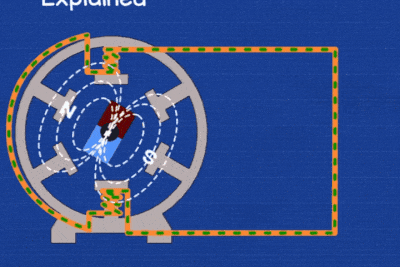 Three Phase Power
Source: How Three Phase Electricity works – The basics explained by The Engineering Mindset.
3 phase electrical maintenance
Just like any other electrical service it is always advised to have regular maintenance carried out to ensure that the service continues to run as it should. You can schedule periodic maintenance and electrical service with our electricians for a time that suits you that will avoid downtime of machinery.
Captain Cook Electrical Experts
For more information about 3 phase voltage and phase motors feel free to contact us today on 0481 134 679 or alternatively you can fill in our online booking form and one of our friendly electricians will get back to you in response to your query.