Ceiling Fans Sydney
Ceiling fan installation and repairs
Captain Cook Electrical can take care of all your ceiling fan installation and repair requirements throughout Sydney's northern and eastern suburbs. Our team of licenced electricians can work with all styles of ceiling fans including indoor, outdoor, industrial, fans with lights, as well as exhaust fans.
Save on heating and cooling costs with a ceiling fan
Did you know that by using your ceiling fan in conjunction with an air conditioner or heater you can reduce the cooling and heating costs in your home?
The ceiling fan helps to redistribute the cool air in the summer and the warm air in the winter. This often means you don't need to boost the thermostat up or down to maintain a comfortable temperature in the room, reducing the work the heater or air con needs to do and therefore reducing the power usage.
A ceiling fan costs around 13 cents per hour to run on the low setting, which equates to around $1.90 per year (running 4 hours a day every day). Even if you're running the fan on the highest setting the costs only amount to around $14 to $19 per year.*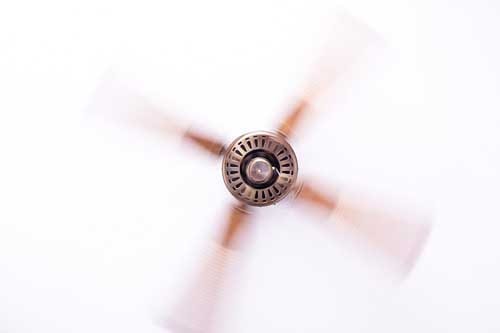 Summer and winter fan settings
Many fans have a small switch on the motor housing which changes the direction of the fan rotation to a winter or summer setting.
The summer setting moves the air downwards to create a cool breeze, this setting can also be used to recirculate the chilled air from your air conditioner.
The winter setting moves in the opposite direction, gently recirculating the warm air back down through the edges of the room.
Simply switch to the relevant ceiling fan setting for cost-effective, energy-efficient climate control all year round.
Why use Captain Cook Electrical?
Our team of licenced electricians are committed to providing great service to every one of our customers, on every job, large and small.
We'll arrive on time – we know your time is valuable
Our services are affordable
We are a local, family-owned business
Electrical safety is a priority – every job is carried out to the relevant industry, state, and Australian standards and regulations, and safety checks are standard procedure.
Your local electrician in Sydney's north
For the very best in ceiling fan installation and repairs contact our electricians on 0481 134 679 or complete our booking request form today.
More information on the energy efficiency of ceiling fans here – environment.nsw.gov.au/households/fans
References – *Canstar Blue – https://www.canstarblue.com.au/energy/electricity/running-cost-ceiling-fans/