Safety Switch
Installation, testing and repairs
Protect your family, friends, tenants, or employees from potentially fatal electrical accidents by installing a safety switch or RCD on the electrical circuits in your home or business. Our team of licenced electricians can carry out the installation, testing and repairs of safety switches in properties throughout Sydney's northern and eastern areas including North Shore, Northern Beaches, Hills District, and Eastern Suburbs.
What is a safety switch?
A safety switch is a small device, usually fitted in the switchboard of your home, which monitors the flow of electricity through a circuit. It will quickly detect and cut off the power to a circuit if a fault or leak is detected, minimising any injury from electric shock and reducing the risk of electrically related fires.
The safety switch works super fast, in around 0.3 seconds or less than a heartbeat to prevent electrocution.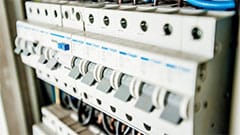 Safety switch installation
Most commonly the safety switch will be installed in the switchboard of your home on the power circuit. Commercial properties may have them fitted to each powerpoint or as mobile devices for use with specific electrical equipment. Our team of licenced electricians recommend installing a safety switch on each circuit, including lighting, hot water, air con, pool, etc, to fully protect residents and staff from electrical accidents.
All electrical installations, including safety switches, must be carried out by a licenced electrician.
Testing the safety switch
Ensuring your safety switch protects those in your home or business every day of the year it needs to be tested regularly to ensure the free movement of the trip mechanism. This is as simple as pressing the 'Test' button to trip the switch, which will cut the power to the circuit it is fitted to, and then resetting the switch to the 'On' position.
Alternatively, contact our team to schedule routine testing of the safety switch.
Your local electrician in Sydney
Keep everyone in your home or business safe from electrical accidents, contact our electrical team to install a safety switch today 0481 134 679 or complete our booking request form today.