Complete Guide to Smoke Alarms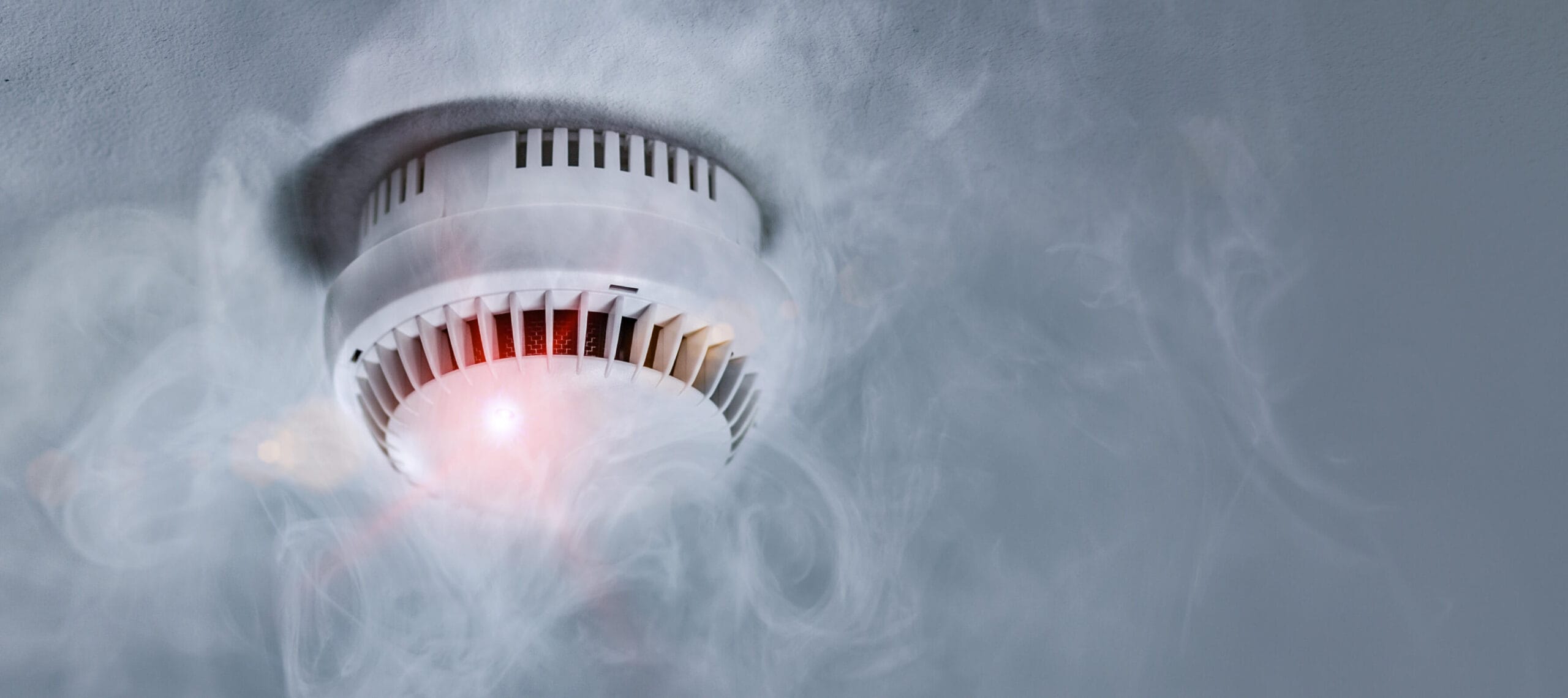 A house fire can be catastrophic for any family, especially if there are people trapped inside. Unfortunately in Australia, too many lives are lost to home fires which is why having a working smoke alarm device in your home is essential.
When it comes to buying smoke alarms there are a number of options available and also some right and wrong ways to go about setting them up in your home.
In most cases you won't get a second chance to get it right, so make sure you have everything you need right now to stay safe and be ready if the worst should happen.
Types of smoke alarms
Technology and safety features are evolving, which puts more detection equipment than ever on the shelves for you to buy. We'll keep it simple by focusing on the two main choices homeowners have for domestic smoke alarms: Ionisation and Photoelectric.
Ionisation Alarms
Ionisation alarms work by scanning for flames. They are fine-tuned to sound the alert for cases of sudden spontaneous fires that ignite and engulf homes quickly. This is a common source of kitchen fires, where oil or grease left unattended can explode into flames, or times when a candle might catch on a curtain.
Photoelectric Alarms
Photoelectric alarms are best suited for smouldering fires where large amounts of smoke fill the air before flames form. Smouldering fires can smoke for hours before flames are seen. Smoke from fire can be deadly, it can render a person unconscious or create low visibility so escaping a fire becomes difficult, or impossible.
There is no way to know in advance what type of house fire you are going to experience. Every fire is different depending on where the fire is located, what the trigger is and what materials are burning.
What's the difference between smoke alarms and smoke detectors?
The terms smoke detector and smoke alarm are used interchangeably every day but they are actually different devices.
The smoke alarms in your home contain a combined detection/alert system to read signs of fire and sound the alarm to get you out safely.
Smoke detectors only detect fire. These are most often seen in commercial buildings such as offices, schools and hospitals. If a smoke detector senses fire it sends a message to a central system where a separate alarm system can alert the entire building.
A professional electrician is able to interconnect smoke alarms in your home so that alarms can be heard in more than one location. This can be helpful for garage fires as well as linking children's bedrooms to parents so that caregivers can be alerted and carry out sleeping children.
The best type of smoke alarm
Fire service professionals typically recommend photoelectric smoke alarms for your home. The reason being that smoke inhalation can be deadly so an early smoke warning can get out of your home before smoke makes seeing and moving around difficult.
Many (but not all) home fires begin with thick smoke before flames making photoelectric smoke alarms a good choice for homes.
Another reason for recommending photoelectric smoke alarms is that ionisation alarms can go off falsely if mounted too close to kitchens or bathrooms. This reduces battery life, encourages alarms to be intentionally disabled and has families tuning out when alarms sound.
What to look for in a smoke alarm
Different smoke alarms come with different features that make owning and maintaining them easier. It's worthwhile sourcing your alarm from a professional supplier rather than a supermarket so you have a better range of features and capabilities.
First off be sure that your chosen smoke alarm is certified in compliance with Australian standard AS 3786.
Other features to look for in a smoke alarm include:
Buttons to test and hush that are big and easy to press
85 or higher decibel
10-year battery (a lithium battery that is pre-installed and non-removable)
Battery low indicator light
Insect protection screen
There are also special features you might like to consider such as strobe lights and vibrating panels for those who are hard of hearing, testing via torch or TV remote for high ceilings or low mobility and escape light guidance.
Smoke alarm laws in Australia
Smoke alarms are required by law in all occupied homes in Australia. This applies to rental properties, homeowners and caravans.
Each state and territory has its own specifications of how smoke alarms are to be installed. As an absolute base, all homes in Australia must have one smoke detector in the home. Other stipulations come into play for what type of smoke alarm you have.
For example, at least one main power-connected device must be installed in new or renovated homes in ACT, SA, WA, NT and TAS or have a lithium (10-year) battery when main connections are not possible due to the home layout.
Check with your local council, fire department website or electrician to know how to proceed in your state.
Where to install a smoke alarm
Some states and territories are explicit about where a smoke detector must be placed while other states only ask that a working smoke detector is in the home. For safety, it's best to consider placement that will awaken sleepers during the night if a fire breaks out.
Be mindful of which smoke alarm you use and how close it is placed to kitchens and bathrooms as steam, grease and smoke can set off false alarms as well as reduce efficiency.
Ideally, one alarm should be placed in the main living area as well as in each hallway or corridor that is connected to a bedroom. The centre of the roof is typically the best position to mount a smoke alarm as walls and corners can be clear of smoke, depending on ventilation and airflow. Speak to a smoke alarm installer about correct placement and to avoid any dead airspace areas.
Cost of smoke alarms
Thankfully smoke alarms are not expensive, making it possible to equip your home with as many as you need to stay safe. Ionisation alarms can be as low as $10 for a basic device and as much as $50 for additional features. Photoelectric alarms range in price from $20 to $100.
The usual lifespan for all types of alarms is ten years, at which point they will need to be removed and replaced.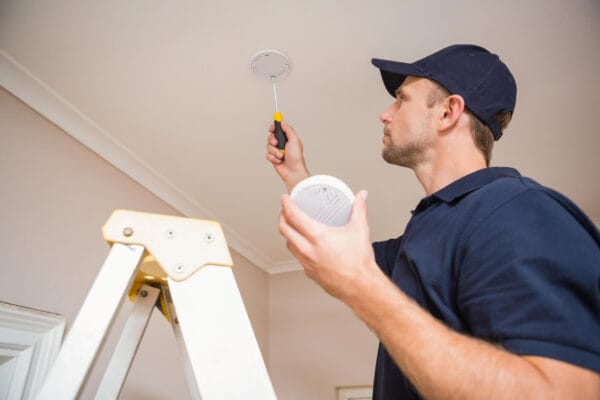 Maintenance of smoke alarms
All alarms, no matter the type, need maintenance and care. This includes:
Replacing the device after ten years
Testing every month
Cleaning alarms every six months with a duster or vacuum
Changing 9-Volt batteries annually
Changing hardwired device batteries as required
Smoke alarms can be affected by everyday exposure to dust, insects and humidity. They also corrode with age, which is why you need to replace them every ten years.
Photoelectric alarms with a 10-year lithium battery are deliberately designed to expire at the same time as the device so you never need to worry about the battery but they still need to be tested and cleaned regularly.
You can find when your alarm needs to be replaced by locating the batch number by the battery compartment with the manufacture date or expiry date.
Conclusion
While laws are in place enforcing smoke alarms in homes there are still fatalities each year due to flat batteries, old devices or smoke alarms being deliberately disabled. Having a working smoke alarm in your home is not just about following the law, it's about keeping you safe. It's a small cost to buy and maintain smoke detectors so you remain protected year-round.
For new homes or renovations, it's likely that you will need a hardwired smoke alarm in order to be compliant with state law. Talk to a licensed electrician at Captain Cook Electrical to know more about your smoke alarm purchase and installation choices and to get the right fit for your home.