Greater Sydney Region Can Expect Lower Average Cost Power Bills (2021 -2022)
With the average home said to use 3900 kiloWatt hours (kWh) of electricity each year, you could expect to pay anywhere between $949 and $1,462 per annum for power within the AusGrid Network.
Even with the latest Default Market Offer (DMO3) of $1,393 falling at the higher end of the scale, thousands of homes and businesses within the Ausgrid network, which supplies the Greater Sydney Region, can expect lower annual power bills for the year 1 July 2021 to 30 June 2022.
Each year now the Australian Energy Regulator (AER) determines the DMO, the maximum price that electricity retailers can charge customers on a default standing offer. Based on the average usage of 3900kWh (determined by AER) the maximum price payable by residential customers within the AusGrid network is:-
$1,393 without a controlled load
$1.912 with a controlled load
The DMO price points are in no way intended to be the most competitively priced option but they effectively limit the cost for customers unable or unwilling to shop around for better power deals, facilitate a balance between industry and consumer needs and encourage competition in the market.

Source: aer.gov.au
The Australian Energy Market Commission (AEMC) offers the average power bill price of $1222, falling to $1172 for the year starting 1 July 2021. These figures are based on a two-person household with no pool, consuming 4215kWh of electricity a year in addition to a mains gas connection.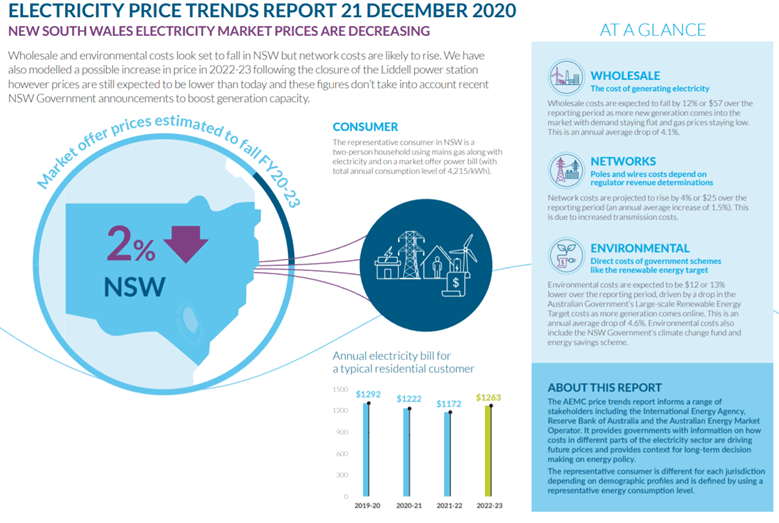 Source: aemc.gov.au
Based on customer survey data, Canstar Blue reports the average NSW power bill in 2021 is $1,421 per annum. This figure is based on the energy usage of 3900kWh/year for a residential customer on a single rate tariff. This price point falls between the national average, they also calculate, for households with three ($1,281) or four residents ($1,631).
These examples show that the average cost of power can be calculated using various data sources – from customer data and surveys to industry trends and online comparison tools. It is essential to understand that these estimates of the average cost of power bills provide at best a benchmark because, in reality, your actual and average electricity bill comes down to two main factors:-
how much of an effort you make to save or reduce your electricity consumption
the price you are paying for your electricity
There are so many ways to save power in your home that we could write several articles so here we focus on the second main factor –  the price you are paying for your electricity, based on supply and usage rates, which include wholesale, distribution, environmental and retail (residual) costs.
Electricity Supply & Usage Rates
The vast majority of NSW homes are dependent on electricity, everything from air conditioning to refrigeration, lighting and electronics. While your power bill may also include tariffs – such as establishment fees, late payment or dishonour fees – your standard charges include:-
Supply Rate: the cost per day to connect to the energy supply network, referred to on your power bill as a fixed, supply or service charge
Usage Rates: accounts for the amount of electricity you use measured in kilowatt-hours (kWh).
Usage cost is subject to market pricing. At the time of writing (1100 Tuesday 20 April 2020 AEST), the market rate for NSW was $32.74 per MWh. However, the price you pay is determined by the contract you hold with your electricity retailer, which is why we advise you to shop around for the best deal.
Ausgrid, the primary distributors of electricity to the Sydney market, recently published average electricity consumption by Local Government Area (LGA) 2020. The data shows customers in the Greater Sydney region use anywhere from 10 kilowatt-hours (kWh per customer per day) in the Sydney LGA up to as much as 21 in the Ku-Ring-Gai LGA.
| | | |
| --- | --- | --- |
| Greater Sydney | Average Per Customer (KWh) | Average Per Customer (kWh) |
| LGA | Daily | 365 Days |
| Sydney | 10.0 | 3650.0 |
| Parramatta | 11.4 | 4161.0 |
| Inner West | 11.7 | 4270.5 |
| North Sydney | 11.7 | 4270.5 |
| Bayside | 12.4 | 4526.0 |
| Burwood | 12.6 | 4599.0 |
| Randwick | 12.6 | 4599.0 |
| Waverley | 13.0 | 4745.0 |
| Cumberland | 13.1 | 4781.5 |
| Canada Bay | 13.3 | 4854.5 |
| Ryde | 13.8 | 5037.0 |
| Strathfield | 14.2 | 5183.0 |
| Georges River | 14.6 | 5329.0 |
| Willoughby | 14.9 | 5438.5 |
| Canterbury-Bankstown | 15.1 | 5511.5 |
| Lane Cove | 15.5 | 5657.5 |
| Northern Beaches | 16.0 | 5840.0 |
| Mosman | 18.0 | 6570.0 |
| Hornsby | 18.2 | 6643.0 |
| Sutherland | 18.9 | 6898.5 |
| Woollahra | 18.9 | 6898.5 |
| Hunters Hill | 21.8 | 7957.0 |
| Ku-Ring-Gai | 21.8 | 7957.0 |
| AVERAGE | 14.9 | 5451.2 |
Table 1. Excerpt from Ausgrid Customer Data for the average electricity consumption by LGA (2020)
What this shows is that the information readily available for the average cost of the power bill is not very average for many households. Only customers in the Sydney and Parramatta LGA fall within the "average" consumption (kWh) applied by the AEMC and Canstar Blue calculations. In the end, whatever price you pay, there are ways that you can actively reduce household power consumption and minimise the cost of your power bills.

Seven Ways to Lower the Largest Power Draw in Your Home
That said, it seems only fair that we provide at least one example of where to look when saving on power. Start with your kitchen. Hands down, the largest consumer of electricity in your home will be your refrigerator. Although it does not run 24/7, it cycles on and off all day, every day. Meaning the cumulative draw on your power is higher than any other appliance in the home. By focusing your efforts here, you can significantly boost energy efficiency and reduce the cost to run your refrigerator and freezer.
Place refrigerators and freezers away from any heat source such as an oven.
Shut the door, keeping the fridge sealed to keep it cold
Keep fridge and freezer seals clean and replace damaged seals.
Think before opening the fridge – the more time you keep the door open, the warmer the fridge becomes. Put a latch on the fridge to prevent inquisitive minds from regularly exploring the refrigerator.
If you buy a new fridge, ensure it is the right size for your needs and consider the energy labelling.
Defrosting frozen food in the fridge will help reduce the temperature and reduce the need for the fridge to cycle on (as well as save energy when cooking)
Adjust the thermostat. If items in your fridge gather a layer of ice, the thermostat temperature is too cold, and you're wasting energy.
Components of Cost on Your Power Bill
The NSW government reports that the electricity market has four main levels
wholesale generation: the production (and storage) of electricity;
transmission: the high voltage lines and infrastructure used to transmit electricity from generators to substations;
distribution: the lower voltage electricity lines and other infrastructure which carry electricity from substations to homes and businesses
retail: the business of selling electricity to households and companies, including metering and billing.
The bar graph below is a simplified version of what you pay for on your residential power bill. It provides a good indication of the weighting of each component of cost, showing that wholesale and distribution costs make up most of the price you pay.
Source: aer.gov.au
1. Wholesale: The Cost of Generating Electricity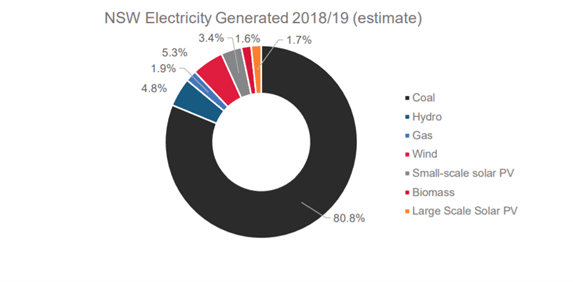 Source: energy.nsw.gov.au
In NSW, too little of our power is generated from renewable sources. In 2019 renewable sources accounted for only 12 percent of electricity generated.
5.3% Wind
3.4% Small Scale Solar PV
1.6% Biomass
1.7% Large Scale Solar PV
An overwhelmingly high 87.5 percent of our power in 2019 was still derived from non-renewable sources:-
80.8% Coal
4.8% Hydro
1.9% Gas
Companies generating power derive revenue based on how much electricity they sell, the spot market price and transmission loss factors. They sell electricity through the National Electricity Market (NEM) to electricity retailers, who then sell it to you. From 2020 – 2022 the AEMC reports that wholesale costs are expected to fall by around 12% as new power generation comes online, provided demand stays flat, and gas prices remain low. For you as the consumer, that's an annual average drop of 4.1%.
2. Cost of Transmission: TransGrid
In NSW, TransGrid operates and manages the high voltage electricity transmission network, connecting generators, distributors and major end-users. They own and maintain transmission towers and transmission lines, creating the high-voltage transmission network to supply more than three million households and businesses in NSW and ACT.
At the transmission stage, substations and switching stations manage electricity at 132/220/330/500 kilovolts (kV = 1000 volts, by comparison, your home run on 230-240v), reducing voltage for local needs and further transmission. The reason they receive such high voltage electricity is to reduce loss (of power and subsequently money) when travelling long distances.
TransGrid generates revenue through a monopoly on the high-voltage transmission network that supplies more than three million households and businesses in NSW and ACT. Setting the transmission prices charged to recover the prescribed transmission revenues for themselves, Ausgrid, Directlink and ActewAGL. The only thing limiting them is the Australia Energy Regulator (AER), which determines the maximum allowed revenue that transmission businesses may earn…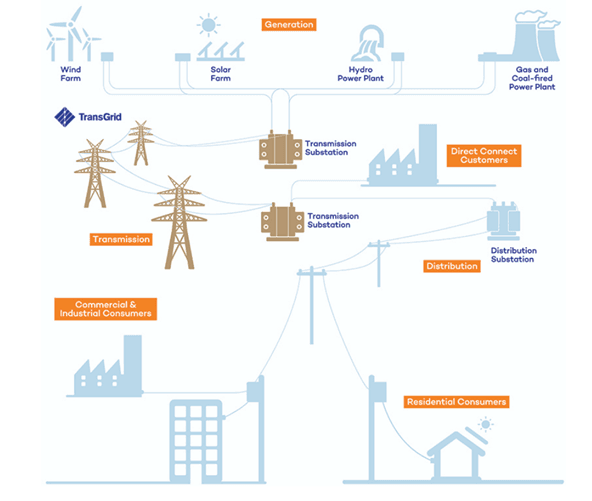 Infographic depicting NSW Electricity transmission (TransGrid in gold) and distribution network
Source: transgrid.com.au
3. Distribution Networks
Distributors, such as Ausgrid, Endeavour and Essential Energy, are responsible for building and maintaining the infrastructure – ground-level transformer stations, pole and pad mount transformers – which 1) reduce the voltage further and 2) supply electricity to homes and businesses. However, they are not responsible for maintaining power infrastructure once on private property; this is the homeowner's responsibility. In NSW, The Australia Energy Regulator (AER) also approves the tariffs distributors can charge retail customers, including transmission and distribution costs.
4. Electricity Retailers: Shop Around for the Best Deal
There are a plethora of electricity retailers to choose from. Each pays regulated charges to the transmission and distribution companies to transport the electricity, that plus a margin for business revenue is the price you pay for electricity.
To save on electricity costs avoid lock-in contracts. You can negotiate on price with your existing retailer or switch between retailers as lower price options become available. Estimates from the AEMC and the next AER Default Market Offer (DMO 3) show that prices are expected to fall further for the year beginning 1 July 2021.
You also have the option to request a standing offer, a fixed usage cost per kWh. While the Default Market Offer (DMO) is the maximum price retailers can charge a standing-offer customer, there are lower price options available in the market.
If you are on a long-term contract (12 months or more), then you may well have spent several hundred dollars more than on a flexible-term contract. Whether or not you have been with the same energy provider for years, we recommend using your most recent power bill to compare your options. Even if you had a great deal when you signed up, retail price movements since 2019 have been downward.
Need Further Advice?
Here at Captain Cook Electrical, our L2 electricians are available 24 hours, seven days a week. We are an Accredited Service Provider (ASP) authorised to work within both the Ausgrid and Endeavour Energy networks. Meaning we are qualified to undertake any work that requires the disconnection, connection, or adjustments to the mains power supply to your property.
Our work on service lines, private power poles, and underground electrical cables is fully insured and comes with a Certificate of Compliance for Electrical Work (CCEW). For more ideas and easy ways to save on your future power bills, better call the Captain!