How to choose the right ceiling fan?
Choosing the right ceiling fan can provide gentle, energy-efficient cooling through summer and help to redistribute warmth throughout the room in winter.
Several points need to be considered when selecting a ceiling fan for the different areas in your home:
Size
Blade material and pitch
Ceiling height
Design
Added extras
Ceiling fan size
The perfect sized fan will ensure as much of the room receives a breeze as possible maximising the effect of the fan whilst avoiding the cyclonic winds which can be created by an oversized fan.
Ceiling fans are available in a huge range of sizes, anywhere from 107 cm or smaller to 203 cm or more. As a general guide, big rooms of 20 to 36 ㎡ should opt for a 132 cm or larger blade diameter and rooms up to 20 ㎡ are suitable for a fan with 122 cm or smaller blades.
Long thin rooms or extra-large areas, such as open plan living, could benefit from two fans rather than one large one.
Blades
Blade material options
Most of the blade material decisions will be dictated by the style of fan you are looking for to suit your decor. However, decisions should also be guided by the fact that timber and plastic blades tend to be a bit quieter than metal blades. Although metal blades tend to move air more effectively which makes them ideal for hotter rooms.
Blade material options include:
Blade pitch and number
There is a misconception that having more blades means more airflow, the number of blades is more of a style decision in most cases. Fan options include anything from a single blade to 8 or 9 blades.
The blade pitch has more of an effect on airflow than the number of blades. A small increase in pitch, ie from 12 degrees to 14 degrees can increase the air movement significantly. However, it needs to be noted that increased blade pitch will also use more power to move through the air which will mean operating the fan will cost more.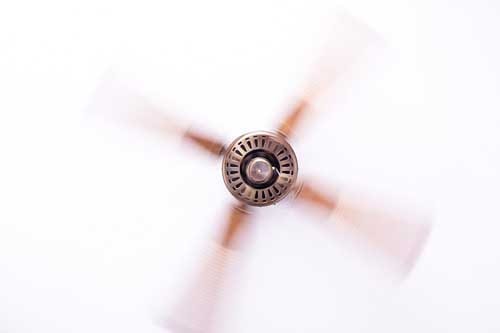 Ceiling height
Ideally, your fan should be 25 to 30 cm from the ceiling to produce the most effective airflow with blades at least 2.1m from the floor.
Ceiling fan design
There are literally hundreds and hundreds of ceiling fan design options on the market today. Design choices span everything from ultra-modern to traditional, indoor and outdoor styles, sleek white to homely timber. Regardless of the style of your home, there is a ceiling fan to suit.
Extra features
Traditionally the only variation a fan had was the three speeds, modern fans offer many variations including
Retractable blades
Remote control – standard on some models and an optional extra for others
Lights – very important if the fan is to be fitted in the middle of the ceiling where a light fitting is currently located. Care also needs to be taken to avoid the strobe effect of a fan fitted over a light which can often happen with downlights. Choosing a fan with a light solves these issues.
DC power – provides more energy efficiency than AC alternatives
We recommend speaking to your local electrician to ensure the specific needs of your lifestyle and climate control system are being met in each room.
Once you have decided on the perfect fans ensure you arrange ceiling fan installation to be carried out by a licenced electrician to protect your warranty and home insurance protection, as well as ensuring the electrical safety of your home.