Induction vs Electric Cooktop : Which is best?
When it comes to cooking in your home, many people are very particular about their style and the appliances they use. They may have a favourite stove type, blender, knife or baking tray that they have to use, or a particular spoon that can only be used to stir particular ingredients.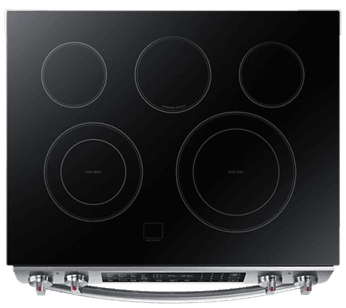 This is the same with cooktops – some people have a preference of electric, gas or induction – and all options can be effectively used in one way or another. But what sets them apart, and how do they work? We have decided to compare standard electric cooktops to induction options, to see the pros and cons of each. If you have any questions, give Captain Cook Electrical a call on 0481 134 679 and we would be happy to assist!
Types of cooktops
There are a few different types of cooktops, including gas, electric and induction however, we have chosen to focus on electric and induction on this page.
Induction Cooktop
The first cooktop to take a look at is the induction. It is quite a common choice and is known for its high levels of safety and speedy heat-up time.
How does it work?
An induction cooktop 'turns on' an electromagnetic field (ie. an alternating current) when a pot or pan is placed on it, as long as it contains ferrous material such as iron or steel. This creates energy around its glass surface and creates heat.
Pros and Cons
Just like anything, there are both advantages and disadvantages of induction cooktop arrangements.
Pros
Quick to heat up.
Safe to touch.
Very energy efficient.
Temperature change occurs immediately when you alter the cooking temperature.
Easy to clean.
Looks stylish
Cons
Can be expensive.
Can be complicated to repair and/or replace.
Can make 'whirring' noise while cooking, which is the fans working to displace heat.
Requires ferromagnetic (i.e. stainless steel or iron) cookware.
Can take some work to install.
Important aspects to consider
A few components that are important to consider when looking at induction cooktops include:
Safety sensor.
Auto switch-off.
Auto heat-up.
Safety cut-out
Pan detection.
Cooking zones.
All contribute to the beneficial nature of induction cooktops, especially when it comes to safety.
Standard Electric Cooktop
Then there's the 'standard' electric cooktop, which is generally made of ceramic. This is again a common choice, with many households being equipped with this cooktop.
How does it work?
A standard electric cooktop conducts heat (or transfers heat) from the cooktop to the pan or pot that is on the cooktop.
Pros and Cons
Now to take a look at the good and bad of the electric cooktop.
Pros
Lower costs, both when purchasing and installing.
Easy to clean.
Works with any type of cookware.
Easy to operate.
Cons
Less energy efficient.
Longer to heat up and cook.
Slower to respond to temperature changes.
Important aspects to consider
A few components that are important to consider when looking at standard electric cooktops include:
Size.
Shape.
Specifications (there are minimum distance requirements for the bottom of cupboards or range hood above a cooktop).
Range of elements.
Which cooktop is best?
When it comes down to it, if you are on a low budget then a standard electric cooktop is likely the best choice. You can use it for any cookware that you already have, and the initial costs are low. If however your budget is a little higher, and you don't mind likely having to buy new cookware than an induction cooktop is generally a better option. It really depends on your circumstances – if in doubt, speak to your local professional for some assistance.
Your electrical specialists across Sydney
If you have any questions regarding electric stoves or would like to speak to one of our knowledgeable staff members regarding an electrical issue, give Captain Cook Electrical a call on 0481 134 679 and we would be happy to assist.
Resources:
BUILD (Gas vs. electric vs. induction cooktops): https://build.com.au/gas-vs-electric-vs-induction-cooktops
Choice (How to buy the best induction cooktop for your kitchen): https://www.choice.com.au/home-and-living/kitchen/cooktops/buying-guides/induction-cooktops
Choice (How to buy the best ceramic cooktop for your kitchen): https://www.choice.com.au/home-and-living/kitchen/cooktops/buying-guides/ceramic-cooktops
Red Energy (Are Induction Cooktops Energy Efficient?): https://www.redenergy.com.au/living-energy/appliances/are-induction-cooktops-energy-efficient