What is three-phase power?
Single-phase supply provides a single alternating current which flows in one direction, between a positive and negative maximum displacement points, and reverses to flow in the other direction. The issue for some applications is that as the voltage passes from negative to positive, at zero, no energy is being generated for a fraction of a second, which can affect the level of power generated.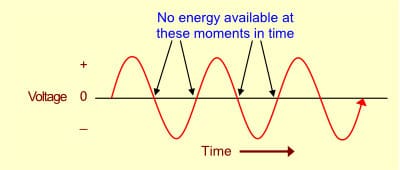 Three-phase power adds another two circuits which are set at 120 degrees (or one-third of a cycle) from each other which provide a more consistent as well as larger power supply. This reduces the issue of no energy being generated at zero as each phase reaches this point at a slightly different time while the other two are still producing energy.

Power generation
Single-phase is 230 to 240 volts
Three-phase 400 or 415 volts
What is 3 phase power used for?
Three-phase power is ideal for larger power needs and is common in businesses, workshops with large machinery, commercial kitchens, manufacturing, and industrial applications. Due to the increased, even power supply offered by three-phase power, it is often used for data centres.
Three-phase can provide a lower 120 volts for standard appliances like the washing machine or toaster as well as catering for larger 208 volt power needs such as a compressor or commercial oven. This feature makes it ideal to supply power for multi-dwelling buildings, office blocks, or highrises.
Home applications include large ducted air con systems, large ovens, some hot water systems, or big coolrooms, however, most home appliances even larger power models will use single-phase power.
Advantages of 3 phase power
More even consistent power supply
Fewer safety risks for workers
Able to run higher power loads
Greater conductor efficiency
Smaller wiring as heavy gauge copper wires used for single-phase not needed
Safer and cheaper to run
Ideal for larger power needs – common in large businesses, manufacturing, industrial applications, and data centres.
Needing to upgrade the power supply to your business or home to three-phase power? Speak to our experienced
electrical contractors
for expert advice and recommendations today.
Your Local Electricians
We provide electrical services in North Shore, Northern Beaches, Eastern Suburbs, Hills District and Ryde.
Ref – https://theengineeringmindset.com/three-phase-electricity-explained/,  http://www.phasechanger.com.au/benefits-of-3-phase-power.pdf