What you need to know about electrical licences in NSW
Electrician
An electrician has completed a 4-year apprenticeship during which she or he will have gained on the job training under supervision as well as study, often at a TAFE Institute. Fair Trading NSW states that your licensed electrician can "carry out the physical work of installing, repairing, altering, removing or adding to an electrical installation". This includes:
any fixed electrical appliance
wiring
fittings
meters
apparatus
or other electrical equipment used for (or related to) conveying, measuring, controlling and using electricity.
An electrician would need to be employed by an electrical contractor, or be an electrical contractor themselves, to provide you with services.
An electrician cannot sign off on electrical work undertaken, this is the responsibility of the electrical contractor or qualified supervisor.
Electrical contractor
Electrical contractor licence allows the electrician to contract electrical work and advertise to carry out electrical work. An electrical contractor can run an electrical business and employ other electricians.
A contractor must carry out additional training and be covered with additional insurance to cover their services.
Contractors are licensed to carry out work where the total cost of labour and materials is more than $5000.
The type of work an electrical contractor can carry out includes:
Kitchen, laundry, and bathroom renovations
Boiler work
Elevators
Electrical heating
Electrical infrared thermal surveys
Lighting supply including LED, security lighting, emergency lighting,
Safety switch testing
Pool heating
Sauna servicing and repair
Solar heating
Water heaters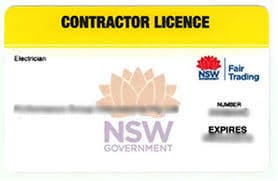 Your contractor is legally required to display their licence number on advertising, stationary and signage.
New South Wales also has electrical licences including:
Qualified Supervisor Certificate – which allows the holder to supervise residential building and building trade and specialist work contracted for by a licensed contractor.
An additional Endorsed Contractor Licence can be issued to individuals who hold a contractor licence but also have the qualifications and experience to be a qualified supervisor.
What do you need to know as a customer?
To make sure the electrical tradesperson you get in to carry out electrical work in your home is covered by the correct licences and insurance here are the basics.
Ask to see their licence – check that it is current and lists 'Electrician'
Ask to see their insurance details – again check that it is current.
Alternatively, you can check on the NSW Fair Trading here – onegov.nsw.gov.au
Captain Cook Electrical is a fully licensed and insured electrical contractor.

We provide electrical services in North Shore, Northern Beaches, Eastern Suburbs, Hills District and Ryde.