Why have smart lights?
Smart lighting. You have likely heard this term in the news over the last 12 months or so, or maybe one of your friends have had smart lighting installed in their home, but have you considered it for your household? Think voice commands to turn you lights on and off, and phone apps to control how the lighting throughout your home looks. But, is it really worth it? We take a look at what smart lights are, how they work and if you should have them installed. If you have any further questions though, speak to your local electrician about what the best options are for your circumstances.
What are smart lights?
Smart lights are lights that have in-built wi-fi, offering them the 'smart' title. The connection to the internet allows them to be connected remotely, as well as having some voice command capabilities and the ability to be programmed for specific times of day. Pretty clever hey!
How do smart lights work?
The concept of smart lights is quite simple – the lighting around a building is interconnected between themselves and the internet, offering a huge variety of options that the lighting can do. This therefore means either an app on your phone or tablet controls your lighting, or voice commands (or both!). Your lighting could be :
Programmed to turn on and/or off at a particular time during the day or night
Check the status of your lighting at home, meaning you can turn your lights on or off while you are out
Programmed to fade in and/or out, or even flash, at particular times
Dimmed or brightened
Changing colours!
Both indoor and outdoor
Make sure you read up on the standby power usage of some smart lighting options, as some arrangements can become very energy ineffective if left on standby for long periods of time!

Why have smart lights?
The list is endless – the perks to having smart lights are huge! However we have collected a few of the best advantages in one spot – if you would like to know more, speak to a lighting professional :
Durable : Smart lights are long lasting, meaning more for your money!
Controlled remotely : Smart lights can be turned on and off, even if you're not in the house. Don't ever forget to turn off a light before you leave the house again
You don't have to get up: If you are wanting to turn a light on or off while you sit on the couch, you can have voice activation which allows you to speak commands
Lighting Options: Apps allow for so many options when it comes to lighting choices, such as grouping lights together, dimming or changing colour schemes, and creating special combinations of effects (known as 'scenes')
Complete control: Apps can control every light in your home via your tablet or phone, offering convenience (think, you can turn off every light in your home as you leave) and comfort (you can turn off the light when you're already in bed!)
Colour changes: Many smart lights offer a colour change option, which not only adds a little fun to your day (blue or green lights anyone?) but also allows you to enjoy varying light hues depending on the time of day – such as white light when the sun is shining and warmer colours as the evening approaches
Variety: Smart lights come in all shapes and sizes, meaning you will likely be able to find something fits your needs exactly
Although some people may consider changing the lighting while sitting down is lazy, it can provide a lot of benefits to the elderly, sick or those with limited mobility. It offers a level of independence for those who relied on others for simple tasks such as turning a light on! Additionally, when it comes to the 'more technology, more problems' argument, sure there are problems – but don't you have problems with most things? Issues with smart lights are generally rare, and voice commands can take a little while to respond, but all in all the benefits far outweigh the issues.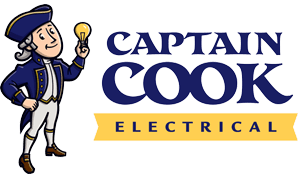 Your professional lighting specialists
If you have any questions regarding lighting in your home, or thinking it may be time for a change in your lighting design, give Captain Cook Electrical a call today on 0481 134 679 or complete an online job booking form. We are the leading experts across Sydney when it comes to practical and affordable lighting solutions, so get in contact now!
Resources :
Choice (How to buy the best smart lights) : https://www.choice.com.au/home-improvement/energy-saving/light-bulbs/buying-guides/iot-smart-lights
NBNCo (What are smart lights?): https://www.nbnco.com.au/blog/connected-homes/what-are-smart-lights
Energy Rating (Smart LED light bulbs) : http://www.energyrating.gov.au/lighting/types-of-light-bulbs#toc6