Infinity Cable Recall: Act as soon as possible
Between 2010 and 2013, more than 2,000km of non-compliant electrical cables were installed across New South Wales. From 2016 onwards, Infinity cables are predicted to emerge as a significant safety risk to installed households.
*Please note that Captain Cook Electrical has never been associated with or installed Infinity Cables.
Imported into Australia from China, Infinity Cables were subjected to a 2013 recall. The reason being, it was found that they can become prematurely brittle and prone to breakage when placed in close proximity to heat sources and roof access areas.
The primary risks associated with Infinity cabling are electrocution and fire dangers.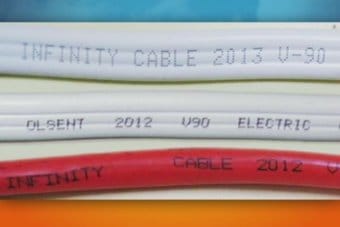 ACCC Infinity Cable recall
With 74 percent of the dangerous cabling yet to be accounted for, the situation has been referred to as what could be 'a ticking time bomb for homes' by the ACCC's Delia Rickard.
All TPS and Orange Round cable sourced from Infinity Cable Co Pty Ltd are affected. They are mainly supplied under 'Infinity' and 'Olsent' brands.
Considering the enormity of the risks involved with the presence of Infinity Cables in homes, it is strongly advised to contact an electrician for a safety inspection if you're not sure whether your home has these cables installed.
Infinity Cables: what are the risks?
Due to the poor-quality plastic coating, or insulation, Infinity and Olsent-branded cables failed to meet electrical safety standards.
Given the premature brittleness of the cables, a safety hazard exists if they're disturbed, causing a breakage in insulation. The higher the temperatures in which the cabling is exposed to, the greater chance of degradation.
According to the ACCC's investigation, physical contact with brittle Infinity Cables could 'dislodge the insulation, leading to electric shock or possibly fires'.
The risk is long-term. Estimated to commence in 2016, contact with the degraded cabling is most likely to occur in roof spaces and under raised floors.
Infinity Cabling: what you should do
Firstly, we can't stress enough that you should not check your household's cabling yourself. To check if the Infinity Cable was used on your premises, get in touch with Captain Cook Electrical today.
Removing and/or replacing any accessible cable (in areas such as roof spaces, under flooring) is essential.
If cabling is in close proximity to a heat source, remove and/or replace it.
It's highly important and advised to have an adequate electrical safety switch for an appropriately insulated cabling. Additionally, making sure your electrical/metering box has a clearly visible warning sticker concerning the cabling on premises.
If, between 2010 and 2013, you:
Not entirely sure who completed your electrical work at the time? The ACCC advises you to get a licensed electrician to inspect your wiring. If your electrician identifies any of your cables as Infinity Cables, and you can identify who supplied these to you, per the cable recall the cost of inspection will be met by the supplier:
Resources Used
https://www.productsafety.gov.au/news/infinity-electrical-cable-recall-act-now-before-it-s-too-late
https://www.abc.net.au/news/2014-10-31/electrical-cables-could-become-dangerous-within-two-years/5857308
https://neca.asn.au/content/infinity-cables
https://www.smh.com.au/business/consumer-affairs/infinity-electrical-cables-still-present-fire-risk-for-thousands-of-homes-20170529-gwfdhz.html
https://www.accc.gov.au/update/infinity-cable-recall-act-now-before-its-too-late
https://www.smh.com.au/national/nsw/infinity-cable-recall-homeowners-risk-lives-by-refusing-inspections-of-dangerous-electrical-cables-20151019-gkcab7.html
https://www.smh.com.au/business/consumer-affairs/infinity-electrical-cables-still-present-fire-risk-for-thousands-of-homes-20170529-gwfdhz.html